Exiled UK band
Alberta Cross
releases their third album, intitled "
Songs of Patience
" through Dave Matthews'
ATO Records
label. AC was the band we had the chance to see live twice as they opened for DMB last two euro tours. Fronted by Ericson Stakee's unique vocal range, they proved in two albums they had a big potential and a nice future ahead of them.
Here they return with a third album which will recall a mix of both previous efforts.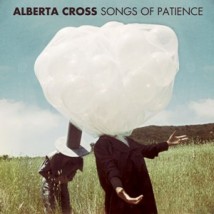 Here's ATO's official press release :
"
The title of Alberta Cross' new album, Songs of Patience is, in many ways, literal. "It's been three years since we last released a full-length album," says singer/ songwriter/ guitarist Petter Ericson Stakee. After touring extensively on their debut, Broken Side Of Time, Alberta Cross headed to an old, abandoned house in the middle of nowhere near Woodstock, NY. There, they braved the freezing winter and embraced a sense of the building's haunted past to envision ideas for a new record.

In the end, Songs of Patience is both a throwback to Alberta Cross' roots and a progression forward. The album veers from the melodic sprawl of opener "Magnolia," a track Petter wrote in L.A. about "too many late nights, for better or worse," to the pensive provocation of "Lay Down," which was penned in the back of a van in Tampa when he felt "beat down by the road" after a two-year straight stint on tour. Petter's self-defeat and subsequent self-discovery are apparent on hook-laden rocker "Wasteland," a track about "our generation being lost and sometimes in need of guidance," while the fuzzed out layers on "Crate of Gold" reveal his growth as a songwriter, leaving himself to explore the motivations of the Occupy movement. The focus throughout the album's songwriting was strong, engaging melodies, as well as Ericson Stakee's poetic narrative sensibility, both of which allow the listener to inhabit a new place for the span of the album
."
A nice album, still enchanted by this great voice, and well balanced between folk and more heavy drum and guitar driven tracks.
The album is already out in the US through
ATO Records
and will be available over here by the end of this month through Pias/ARC Recordings.